The aim of this blog is to keep upto date with West Asian current affairs (in particular the GCC) and express views on the Middle East in the eyes of India.
The blog will also cover a wide array of subjects impacting politics in the Middle East. I intend to post views on major incidents in the past such as the Israel - Hezbollah war, local politics of the UAE (as a result of the fallout from Dubai's economic collapse) and Mumbai Attacks (26/11).
The people of India and the Middle East have had historical relations for well over 2000 years.
The strength of these relations over history has always been related to the sea trade and the geography.
India's closest ally in the Middle East has always been the Sultanate of Oman. My next post will be a walkthrough of relations between the Sultanate of Oman and the republic of India.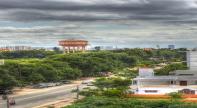 Dear Readers, if you have any news and views please email eye.on.middleeast "at" gmail dot com
Many Thanks.