Egypt
Egyptian Foreign minister Nabil Al Arabi appears to have been sacked due to favouring closer relations with Iran. It is likely that GCC may have put Egypt under pressure to withdraw this policy. We are aware that Murad Muwaifi (The head of the Egyptian General Intelligence Directorate) had met with his KSA counterpart and explained to him Egypt's decision to build up relations with Iran. Since this meeting, Egypt appears to have withdrawn from a brief flirt with Tehran. UAE and KSA continue to provide aid to Egypt.
The current Foreign Minister of Egypt made this statement in Bahrain: "The GCC security is an integral part of the collective Arab security and a strategic depth to Egypt's national security".
Syria
The Syrian regime appears to have
sustained serious damage in the recent protests. Protests are still continuing in the Hama region. There appears to be a lot of defections from the lower rank sunni dominated parts of the military. The 76th Battallion appears to have suffered the most with over 100 defections (So bad that Maher Assad controlled troop had to move in to back up the 76th battalion). The air force appears to be pre-dominantly a sunni force and the Assad regime has sent out strong warnings to sunni commanders that defections should not be tolerated.
We continue to believe that with further sanctions targetting Assad supporters, key Syrian businessmen and with vast open/unpoliced/unfenced borders,
it is likely that the regime will collapse. Therefore expect the worst in Syria.
Also reports from Lebanon suggest that black market prices for weapons have increased significantly due to Syrian demand. This also suggests that some countries are financing rebels in Syria.
Turkey has decided to use diplomacy and refrained from a military response yet.
We have learned that the Turkish intelligence agencies have sent warnings to Syrian and Iranian counterparts, not to harm Syrian refugees and expatriate Syrians in Turkey. This has raised the tension with Iran recently.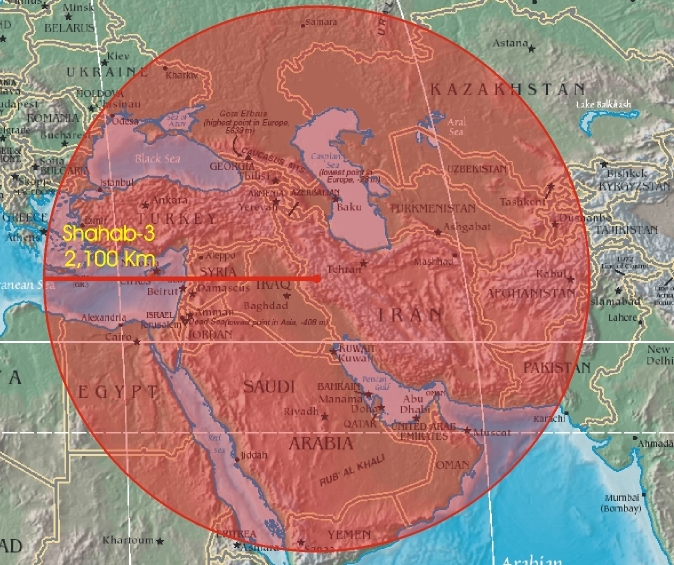 Shahab 3 Range
It is likely that the threat of joint US and Turkish intervention in Syria, led to Iran announcing the Great Prophet 6 military exercise. This exercise took place in the Northern borders close to Turkey and showcased the nuclear capable Shahab 3 missile (capable of striking targets in Europe).
Iraq/Iran
Iran is developing the Mahdi army and Badr Brigade (part of the supreme Islamic Council) into a professional militia/force, that is an alternate to Hezbollah (or as powerful as Hezbollah).
The IRGC told them the plan is to reorganise the militia and arm them. So intructors will be giving them training in weapons handling and Missile launching. So the aim is to develop a force that can intervene in Syria, Lebanon - in support of Hezbollah and augment hezbollah operations in setting up covert cells in Kuwait, Bahrain, KSA. So if Hezbollah can't, the Mahdi army will take over setting up cells in GCC.
Tensions are rising again as Iran wants to make sure that the US does not retain any presence in Afghanistan and in Iraq. In order to achieve this, Iran has partnered with Pakistan and Iraq. Therefore, Iran has delivered more weapons to be used against the US troops in both Afghanistan and Iraq. Sadr has issued more threats and has even permitted suicide attacks against the US troops.
The US has wanted to change its role from a force that is currently policing the streets into a pure counter terror role and support Iraqi forces or Afghan National Army operations against insurgents. We can expect this to occur over the next few months.
"The current discussions cover both, and there are very clear capability gaps that the Iraqi security forces are going to have," Mullen said, citing air defense, aviation and elements of intelligence.
Iran
We understand that western intelligence agencies have concluded that Iran has now produced its first nuclear bomb prototype that is ready to be tested. Iran took advantage of the chaos during the "Arab Spring" to accelerate its program. Recently announcing that Iran will send a monkey into space. Any military analyst will point out that being able to put a payload into space will demonstrate ICBM capability. Rumours are circulating that a blame game has begun within western intelligence agencies.
It is likely that KSA and Turkey will come out with a plan to test nuclear weapons. Prince Turki has been the most vocal in this. Pakistan meanwhile has been expanding its nuclear weapons stockpile significantly and is likely to transfer the weapons technology. We have already reported in a previous article on GCC - Pakistan relations, of Saudi nuclear scientists receiving training in Pakistan. The GCC nuclear program is likely to be based in Khamis Mushayt and we believe that the program has been running for some years.
------------------
Pyongyang has relaunched North Korea's enriched uranium production, a move that has coincided with Iran's stocks growing.
In recent months, several European security services including the DGSE and MI6 have been swapping notes about intelligence from U.S. sources that Tehran has been receiving deliveries of UF6, uranium hexafluoride, used in centrifugation enrichment processes. This news comes at a time when Pyongyang is known to have relaunched its production of nuclear fuel.
The existence of a secret supply source from North Korea, if it turns out to be true, would strengthen the case for tougher sanctions against Iran. A report into secret technological exchange between the two countries, written by the United Nations' panel of experts that monitors compliance with UN sanctions imposed on Pyongyang, was submitted to the Security Council in May. The report, which has not yet been published on China's request, covers bilateral cooperation on ballistic missiles. On June 10th, the U.N renewed the panel of experts' mandate.
----------------------
KSA
KSA and the US have partnered together on anti-AQAP operations. Leon Panetta and Gen. Petraeus have both told lawmakers that GCC will put "maximum" pressure on the AQAP. Prince Turki Al-Faisal and Prince Bandar bin Sultan were said to have lobbied the senior KSA leaders to allow a construction of an airbase for CIA/JSOC to operate drones from KSA. It appears that this base may not be operational yet and it is likely that some missions that began in May are operating from a neighbouring country as well as KSA.
The reason behind KSA okay'ing the plan was to prevent AQAP being given a free hand to operate in Yemen as this could affect the survival of the Kingdom.
---------------------------------
Thank you for reading! Feel free to email us your comments at "eye.on.middleeast" at gmail dot com